Customer: Britvic Soft Drinks
Location: Leeds UK
Products/services used: Manual and automated pallet racking. AutoMHA MOVERS. Shuttles. Conveyors. Lifts.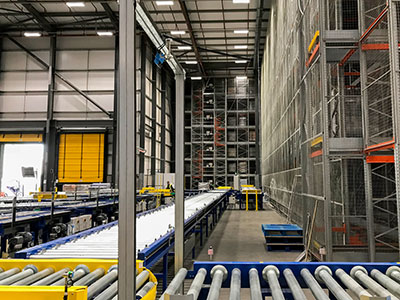 Business need
Britvic is the largest supplier of branded still soft drinks and the number two supplier of branded carbonated soft drinks in GB. With brands like Robinsons, J2O, Fruit Shoot, R. White's, Purdey's and as the proud bottler for PepsiCo's brands in GB and Ireland (including Pepsi, 7UP, Gatorade and Lipton Ice Tea). Britvic has more than 30 brands available globally and sells over 2.3 billion litres of drinks every year.
To keep up with demand the company needed to extend its existing factory and warehouse in Leeds to increase capacity. They asked Dexion to provide a sustainable solution to make the most of their newly expanded space.
Dexion solution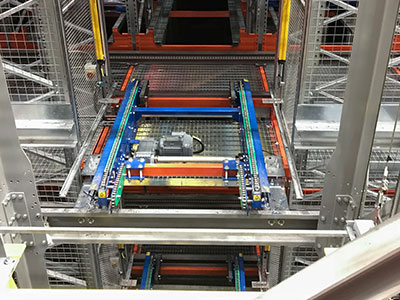 Britvic's brands are sold in bottles and cans. The sheer weight and volume of these, combined with the high number of movements in and out per hour, meant ultimately providing a fully automated storage facility. To provide cost justification, while new lines were ramped up to increased capacity over a 12 month period, the original installation consisted of a manual shuttle operation, with design built in to allow the system to be fully automated over time.
The initial installation was completed in 2016, consisting of two blocks of Shuttle racking in a LIFO configuration and then subsequently fully automated in 2017. The total storage capacity within this system equates to 16000 pallet positions spread over 71 lanes. Chain and roller conveyors take goods directly from production lines to storage blocks and 8 lifts take and retrieve pallets from all storage levels.
The result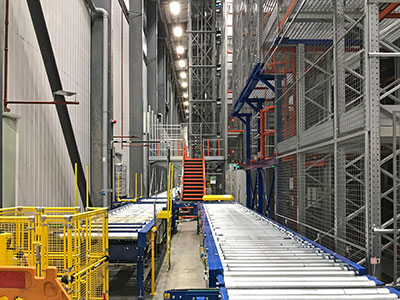 The Dexion team worked with Britvic right from the start. Over the two years of the project, automated solutions such as adding 14 AutoMHA MOVERS each with a SUPERCAP shuttle on board enabled the number of pallet movements to double, from 300 pallets per hour in manual to 600 pallets per hours when automated.
About
Britvic is a leading soft drinks company, with operations in Great Britain (GB), Ireland, France and Brazil. The company has developed a strong portfolio of its own iconic brands, including Robinsons, Tango, J2O, drench, MiWadi, Ballygowan, Teisseire, Fruité, Maguary and DaFruta. In addition, in GB and Ireland, the company produces and sells a number of PepsiCo's famous soft drinks brands, including Pepsi, 7UP, SoBe and Mountain Dew, under exclusive agreements with PepsiCo.