Case study overview
Name: AT Biler
Location: Fredericia, Denmark
Products: Mobile Tyre racking. Static racking and 10 mobile units with pallet racking.
Business need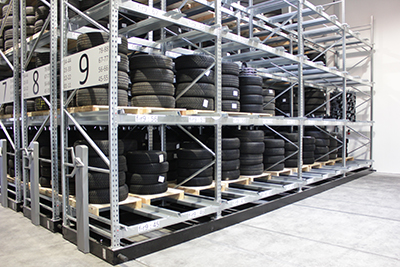 Denmark has strict requirements for the handling of tyres.
This initiative, instigated by the Labor Inspectorate, means companies need to find a way to make the storing and handling of these bulky, heavy items more ergonomic.
In addition to the mandatory requirements, AT Biler wanted to increase their storage capacity and to bring the tyres closer to the workshop.
Their current system involved mechanics having to walk to and from containers which were kept outdoors. This was not only time-consuming but impractical, unpleasant and potentially hazardous in the winter, when the containers were covered in snow.
They turned to Constructor Denmark for advice.
Constructor Denmark solution
Constructor Denmark is one of the few companies that recognise the problems faced when storing tyres.
They have developed a bespoke solution that is being used by retailers, wholesalers, manufacturers and specialist tyre fitting outlets in many countries.
Using their range of specially constructed products and accessories, Constructor Denmark's compact storage solution with mobile tyre racking was the perfect system for AT Biler. The system, which can hold up to 1200 sets of wheels, has one static racking, and 10 mobile units with pallet racking.
The mobile units run on rails in the floor. These units move to one side, opening an aisle for picking / storage. Each pallet holds 4 wheels, and picking/storage is done with a truck. The tyre storage opens at 6.30 where the sets of tyres required for the coming working day are picked and transported to the workshop, so they are ready when the customer cars arrive.
The result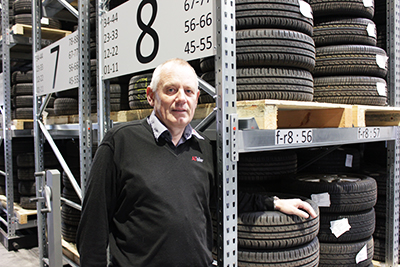 "We have increased our storage capacity by 50% as a result of this new mobile tyre racking, and at the same time we have halved the walking distance for the employees when fetching and bringing the wheels. Furthermore, we have improved our workflow when changing tyres. In fact we carry out up to 10 changes of tyres more per day with this new storage solution." - Tom Pedersen, Manager Sales Department AT Biler.
About AT Biler
AT Biler are authorised dealers for brands including Toyota, Alfa Romeo, Suzuki, Fiat and Jeep. The company has 110 employees and 4 affiliates located in Fredericia, Give, Horsens and Vejle. www.atbiler.dk