Case Study Overview
Customer: Ausnutria
Location: Lelystad, The Netherlands
Products/Services used: Hi280 Mobile Shelving
Business need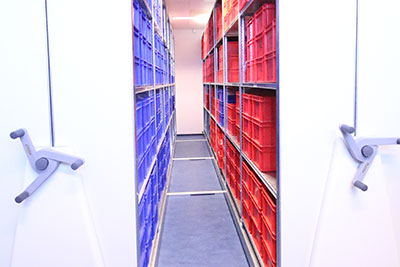 Ausnutria Hyproca produces and sells infant formula and dairy products based on goat and organic cow milk. In addition to its own brands it supplies the commercial market with private label baby formula and other dairy ingredients such as milk powder.
It is a major international player supplying its many customers both at home and abroad from its Netherlands base.
The children's food industry is tightly regulated and quality control is imperative. All their production processes, raw materials and end products need to be tested extensively in terms of quality and safety.
To maintain the quality needed, Ausnutria have their own central laboratory in Lelystad , operating under the name Ausnutria Hyproca Analytics. This laboratory is located in the BioScience Center of the University of Wageningen, and houses the microbiological lab, the instrumental lab and the chemical lab. Test samples need to be stored and space within the labs was very tight.
Dexion Solution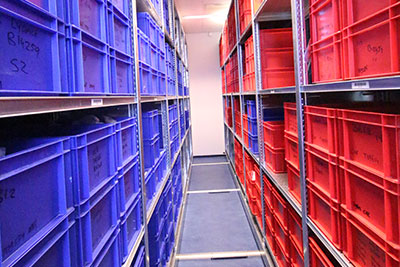 Ausnutria searched on the internet for storage solutions and found the Dexion website. After downloading information about mobile shelving, a meeting was set up.
The account manager of Dexion understood their needs and advised mobile shelving, because of the small samples that fit perfectly in shelving and the mobile version because of the limited space.
Mobile shelving is the perfect choice for storing small parts in a limited space. This is because aisles can be opened up and closed shut as and when needed for access. This doubles the capacity in many situations. For Ausnutria, samples are stored in coloured boxes to provide a good overview, and the galvanized shelves are easy to clean. The installation was completed with panels finished in white to reflect the cleanliness of the operation.
The Result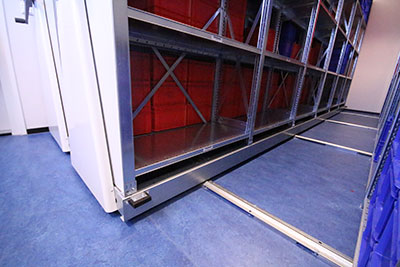 "We chose Dexion because we could quickly come to a good decision through the expertise of the relationship manager who visited us. The construction and further processing went smoothly so we are very pleased with it." - Pim Bakker, Logistics Coordinator
About Ausnutria Hyproca
Ausnutria Hyproca supplies the international market from the Netherlands, the dairy centre of the world. From private label infant formula and contract manufacturing services to the sale of own brands infant formula and goat milk products. Ausnutria Hyproca serves consumer and commercial markets alike.