Case Study Overview
Customer: Bekö Bil
Location: Gothenburg/ Sweden
Products/Services used: Vertical Tyre Storage, Longspan Shelving, Mobile Tyre Storage, Mobile Shelving
Business need
Due to new regulations, all cars in Sweden are required to have two sets of tyres, one for summer and another for winter. This has created a huge demand for storage and led car retailer Bekö Bil to decide to invest in a new modern workshop for tyre services.
The company has built their tyre service workshop in a newly constructed, separate building connected to their main workshop. However as space was limited, they wanted to find the best way to optimise capacity.
Bekö and Constructor have an ongoing relationship having worked together in the past, so they were the natural choice for this project.
Constructor solution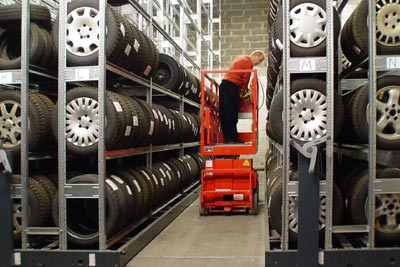 The limited space and huge storage demand meant that Constructor's Mobile Tyre Storage system was the answer.
Mobile tyre racks significantly increase the storage space compared to traditional methods and are ideal when floor space is limited or rates per m2 are high.
Based on the mobile HI280 shelving system, they can be mounted on top of an existing floor making it an easy and cost efficient option. Other benefits include:
Electronic or manual drive systems
Compact storage
Fast access
Scalable up to very large installations
At the Bekö workshop, the 120 m² allowed for 7 manually controlled mobiles, each 10m long plus one fixed tyre rack unit. This gave a total capacity of between 3,780 to 4,800 tyres (depending on tyre size) on 7 levels
The Result
"Constructor has widespread experience of working on specialist projects such as this. This has led them to develop a bespoke system for tyre storage which, tailored to Bekö's precise requirements, provided the perfect fit. The installation provides storage of 40 tyres /m² which is highly efficient."
About BEKÖ Bil
Bekö Bil is the leading car retailer in Gothenburg, Sweden, for many major brand names such as SAAB, Chevrolet, Opel and Subaru.