Case study overview
Customer: Danfoss
Location: Kliplev/Denmark
Products/Services used: Pallet flow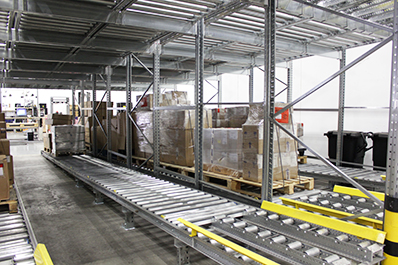 Business need
Danfoss engineers technologies that enable the world of tomorrow to do more with less. Working in areas such as air conditioning, food cooling, and powering mobile machinery.
With such a high rate of turnover, fast and full access to goods is required at all times to ensure faster picking and dispatch for urgent deliveries.
Constructor solution
Constructor's Pallet flow system (otherwise known as Pallet Live Storage) provided just what was needed. Incoming pallet goods can now be handled separately from those that need sorting or repacking – these are loaded into the Pallet flow system at ground level.
The upper level is used for empty packaging required for the registering of incoming goods.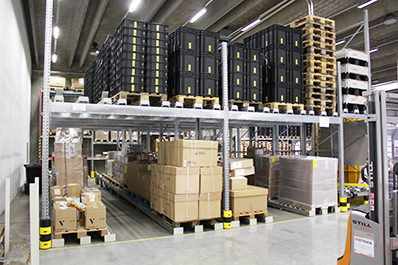 The Danfoss team can now ensure items with the same arrival date are grouped in lanes and clearly marked, with pallets moving forward in the system towards picking.
This solution has removed the need for forklift driving in this area, providing a high degree of safety to the staff and eliminating operator walking and picking.
The Result
"The aisles between the rollers provide full accessibility to all pallets at all times. This is essential in case of urgent requests from production. Previously, we spent a lot of time locating the pallet in the warehouse, but now we can check the Pallet flow system first." - Jannik Hollander Jensen
About Danfoss
The Danfoss Group is a global producer of products and services used in areas such as cooling food, air conditioning, heating buildings, controlling electric motors, compressors, drives and powering mobile machinery.