Case Study Overview
Customer: Din Bil/Audi
Location: Gothenburg/Sweden
Products/services used: TORNADO Storage Machine
Business need
Din Bil operate Audi's largest Nordic sales and service unit in Gothenburg, Sweden. The centre is always busy and the pressure is on for the 15 mechanics to carry out their work, complete each task and get the cars back to the customer with a minimum of delay.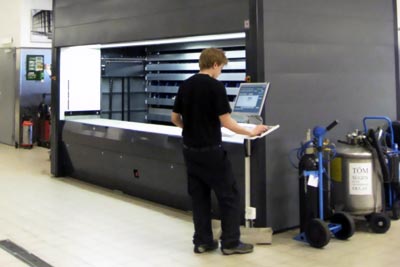 The mechanics have over 1300 tools that are in constant use. Locating the right tool for the job in hand meant searching for them, which wasted time. It also didn't reflect Audi's values, which include the overall presentation and cleanliness of all its workspaces.
As an authorised service centre, Din Bil wanted a solution to save floor space and make the operation more efficient whilst ensuring that every aspect of their operation conforms to Audi's standards.
Constructor solution
Constructor had exactly what Din Bil needed: the TORNADO, an automatic storage system that can increase productivity by up to 65%, save up to 75% on space and can be adapted to exactly suit individual requirements. DiN Bil agreed and the order was placed.
As Din Bil has 1300 tools, the Constructor team started by weighing and measuring all the tools in the workshop. This step was important so that the TORNADO could be manufactured to meet their needs and configured to store the tools in the lift system. Knowing the number, size, and weight of the items to be stored resulted in a system which is 6.5m high and 4m wide and 48 pallets, each with a capacity of 300kg. Further customisation included painting the TORNADO in Audi's corporate colours.
Now, when a mechanic needs a tool they simply walk to the automatic system, order the tool, and sign for it. When the work is done, the mechanic immediately returns the tool to the system. If other mechanics need the same tool, they can immediately see who has it.
A further advantage is that the area remains tidy and on-brand as there are no tools on the floors or the walls or in fact anywhere apart from in the mechanics' hands.
The result
"The automatic system enabled us to add a new servicing point to the workshop. Since the total capacity has increased and lead times have shortened, we are able to service 4–5 more cars per day." - Mats Lindblad, Workshop Manager.
Din Bil's original motivation for purchasing the automatic system was to save floor space. The fact that this has enabled them to add capacity is an added bonus for the company and its customers alike.
About Din Bil
Din Bil Sverige AB is a Volkswagen subsidiary that sells and services Volkswagen, Audi, Porsche, Seat, and Skoda cars. The sales and serving operations for the Audi brand are located in a separate building in line with the brand strategy.