Case Study Overview
Customer: EMMA Safety Footwear
Location: The Netherlands
Products/Services used: Bespoke modular shelving
Business need
EMMA Safety Footwear produces quality safety footwear from their base in Maastricht, Netherlands. The storage for its range of footwear needed upgrading, but due to the non-standard sizing of the products, off-the-shelf storage solutions could not offer optimum efficiency or the most effective order-handling process.
As a manufacturer of quality safety products, EMMA's core philosophy is getting it right every time. As well as ensuring the products meet its own high standards, EMMA wanted to ensure its storage facility was as close to perfect as possible – and this meant a bespoke solution was required.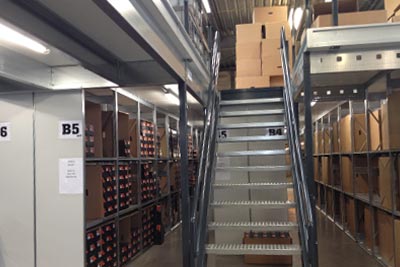 Dexion solution
EMMA Safety Footwear had partnered with Dexion previously, so knew they had a reputation for quality and a comprehensive range of products in standard sizes. What EMMA needed was a bespoke solution, designed specifically for them – but without the designer price tag.
Dexion worked closely with EMMA to design a bespoke solution that would increase business efficiency, but was also cost-effective.
EMMA required a beam length of 1100mm and a frame height of 2700mm, which is far from standard. Dexion was able to supply these bespoke sizes and install 370 sections of shelving 500/600 deep, with three shelves per section.
The racks were designed to take the dimensions of the products into account, with the drop heights exactly aligning with the sizes of the shoes or boots. They were the perfect fit for maximum storage capacity.
Benefit of the Dexion solution:
A bespoke shelving solution, which exactly matched EMMA's needs.
Guaranteed fast, efficient and accurate order performance across all product lines.
No interruption to existing high-volume business while expansion took place.
Cost-efficient solution, despite bespoke requirements.
Achieved maximum storage capacity within the building.
The result
EMMA safety footwear is made for intensive use with an ultra-long lifespan. When it comes to storage solutions, these same qualities can be applied to Dexion. Partnering with Dexion on this project offered EMMA the bespoke solution, which was the perfect fit for their needs.
About EMMA Safety Footwear
EMMA Safety Footwear has designs and manufactured protective footwear that puts safety first, for more than 80 years. Using top quality components to ensure a superior fit, optimal comfort and complete safety in the workplace. www.emmasafetyfootwear.com