Case Study Overview
Customer: OHM Group
Location: Ireland
Products/Services used: Dexion Two Tier HI280 Shelving and Longspan Racking
supported Mezzanine Floor structure
Business need
OHM Group was experiencing strong growth in its vehicle distribution business and needed to move its warehousing function to a site capable of handling this sustained level of demand.
OHM Group supplies vehicles across all of Ireland and requires an efficient warehouse process to ensure the country-wide logistical operation could run at its optimum level.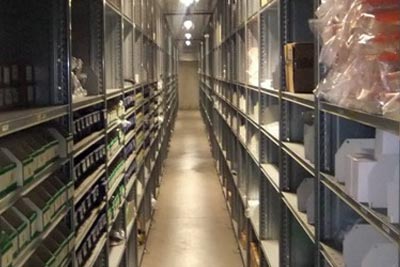 Dexion solution
OHM Group benefited from a range of Dexion solutions which worked in harmony to ensure the warehouse operation at the new site in Baldonnel, Co. Dublin, could function at optimal capacity.
OHM Group installed a Dexion Two-Tier HI280 Shelving & Longspan Racking supported Mezzanine Floor structure (6m high x 36m long x 42m wide). It provided 500 shelving bays at ground floor level and 1st floor level for the storage of small parts, and 150 bays of Longspan Racking for larger parts storage. The top floor level was left clear for the storage of bulkier items.
The design of each floor level also incorporated 80m² of marshalling area at each end, which is serviced by forklift trucks via swing-loading gates, and up and over pallet gates. All shelving bays are complete with Dexion shelving accessories, including steel dividers, cardboard K bins and storage trays.
Benefit of the Dexion solution:
Guaranteed fast, efficient and accurate order performance across all product lines.
Maintained and extended reliable logistical supply chain.
Selecting a range of Dexion products ensured an efficient and effective solution was implemented which met all defined client business needs.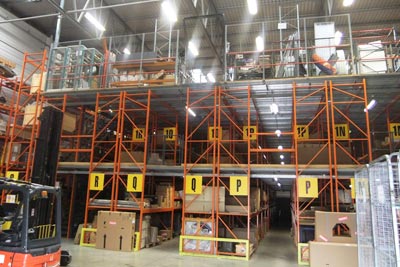 The result
The Dexion solutions work seamlessly together in OHM Group's new warehouse. Meeting existing business needs and allowing the logistical system to meet and exceed customer expectations.
About OHM Group
OHM Group is one of Ireland's leading private businesses and is engaged in the exclusive distribution of cars and commercial vehicles such as Saab, Jaguar, Land Rover, Range Rover DAF Trucks and MAN Trucks. www.ohm.ie