Case Study Overview
Customer: Pneu Vanhamme
Location: Waterloo/ Belgium
Products/Services used: Vertical Tyre Storage, Longspan Shelving
Business need
Pneu Vanhamme is a family run business that prides itself on being a little different. Not only does it not look like a tyre business, it doesn't smell like one either.
Karyn Vanhamme, who has been in charge of the operation since 1989, goes to great lengths to ensure that customers experience what is described as tranquillity and refinement when they enter the business premises-a far cry from the majority of tyre fitting operations.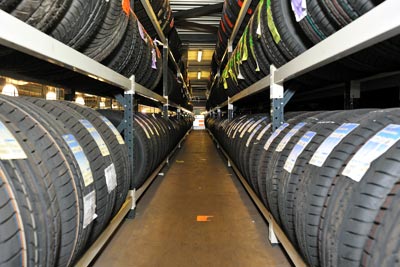 The company needed to significantly increase their storage capacity as consumers adopt the habit of having two sets of tyres. Whilst there is no official requirement to use snow tyres in Belgium, it is increasingly common in neighbouring countries.
As the majority of people don't have the space or desire to store spare sets at home, tyre fitters need to offer this as a service.
Pneu Vanhamme had ample space, but they needed a system that would make better use of their floor space to maximise capacity.
Dexion solution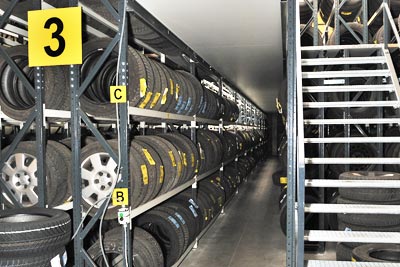 Having examined the space, the Dexion Belgium team quickly concluded that a mezzanine floor was the answer. The client agreed and the project was carried out in two phases:
Phase 1 was the installation of 173m² of mezzanine floor equipped with 2061m of Longspan2 shelving and 504m of P90 Pallet Racking. This gave a storage capacity of ~ 12,000 tyres.
Phase 2 involved installing an additional 2347m of Longspan2 Shelving which expanded the storage capacity by another ~ 11,550 tyres.
The result
Dexion was able to create a solution that provided capacity for more than 23,550 tyres. They were chosen because they offered a good base price, rapid delivery, speedy installation and excellent follow-up.
About Pneu Vanhamme
Founded by father Constant Vanhamme, the business is run today by daughter Karyn, backed up by her two daughters and a son-in-law. At peak times the firm employs two dozen staff members.