Case study overview
Customer: Profytodsd
Location: Emmeloord, Netherlands
Products/Services used: Dexion Pallet Racking
Dexion Pallet Racking create safe storage for Profytodsd's chemical and biological fluids.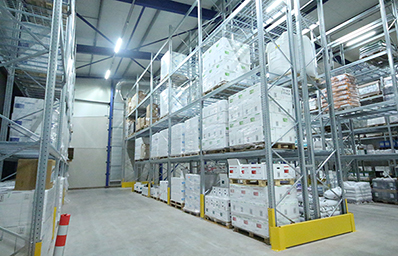 Business need
Profytodsd, operating from Emmeloord in the Netherlands, is a leader in the fertilizer and crop-protection industries.
Providing a wide range of products and services across a number of sectors including arable farming and fruit cultivation; the safe storage of chemical and biological fluids (also known as ADRs) is always front of mind.
Thanks to huge growth, a new plot was needed for such storage. The new 1,000m2 plot had to meet strict requirements for the storage of these chemical substances.
Profytodsd was looking for the most suitable warehouse layout; requiring frames that could be mounted easily on the uneven floor – which is designed to allow for any leaked liquids to flow down to side guttering.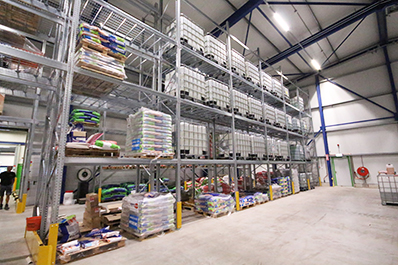 Dexion solution
Thanks to a long working relationship with Profytodsd, Dexion understood the company's needs immediately.
The P90 pallet sets were calculated to be strong enough to carry heavy IBCs (Intermediate Bulk Containers) and emergency doors and signage systems were placed throughout.
The galvanized pallets were provided with grids in order to prevent breakdowns and chemical anchors were used for the liquid dense floor.
Underpasses saved running and driving times from one area to another, and the new warehouse has been designed to easily expand and adapt as Profytodsd's change over time.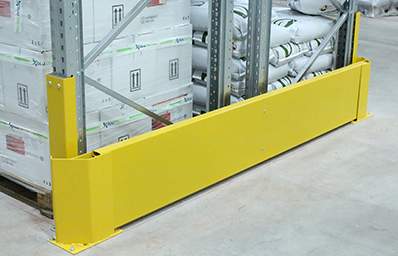 Dexion's installation in the warehouse consisted of 57 sections pallet sets; 220 gauze gratings; 13 front protectors; and 65 style guards.
The Result
"During the construction of the new storage facility, Dexion's knowledge and expertise has been invaluable. Profytodsd is very satisfied with the team". - Willem Top, Profytodsd Safety Inspector.
About Profytodsd
Profytodsd is a leader in the fertilizer and crop-protection industries and provides a wide range of products and services across crop protection, seeds, fertilizers, labour and pest control.