Case study overview
Name: Santa Maria
Location: Kungsbacka, Sweden
Products: Shuttle systems, Narrow Aisle systems.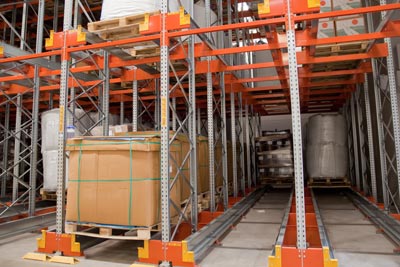 Business need
Santa Maria imports spices and flavourings from around the world, and distributes to customers throughout Scandinavia and the Baltics.
When building its new distribution centre in Kungsbacka, Sweden, the company was keen to create a zonal storage facility, increasing capacity to around 30,000 pallet locations, and to include Shuttle and Narrow Aisle systems that match its operational preferences and logistical needs.
However, Santa Maria also required a remodelling of its 'buffer zone' Narrow Aisle system, to give it the flexibility to accommodate future expansion – plus a Shuttle system for its raw materials zone, to incorporate both FIFO (First-In, First-Out) and LIFO (Last-In, First-Out) storage principles.
Constructor solution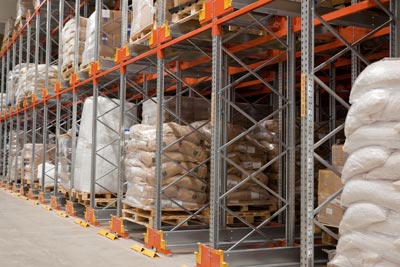 The Narrow Aisle system Constructor provided for the buffer zone is 12 metres high, with 19,000 pallet locations. The warehouse is handled by four narrow trucks that pick up and drop pallets at the terminal locations at the end of the bay. ABC analysis ensures the most frequently accessed goods are at the bottom of the system, thereby making trucking far more efficient.
In the raw material zone, Santa Maria opted for a Shuttle system with two satellite wagons for long-sided handling of pallets. This system has achieved a storage capacity of up to 1,386 pallet locations, depending on pallet size. As per Santa Maria's preferences, the system accommodates FIFO and LIFO principles.
The Result
"We have used Shuttle for more than 20 years and it is a very appropriate system for our management method. Constructor's in-depth knowledge, expertise and experience with such systems – and their eye for efficiency and flexibility – have been highly impressive. We save significant time and space with a Shuttle system compared to standard pallet racking." - Björn Zelander, Santa Maria.
About
Today, Santa Maria is a part of the 'world food and flavouring' division of Paulig group. Its origins reach back over 100 years to its humble origins in Gothenburg – when it was known as Nordfalks – to become the largest seasoning company on the Nordic market, with 900 employees. www.santamariaworld.com/uk