Case Study Overview
Customer: Schuh
Location: The Midlands/UK
Products/services used: Multi-tier Shelving System, Dexion Multi-Tier Picking
Business need
Since opening its first Schuh store in Edinburgh in 1981, this leading fashion footwear brand now have 100 stores and a successful online presence in the UK and across Europe with a huge fan base on Facebook and Twitter. Over the years they have also won a number of awards including the Micros Grand Prix Golden Chariot Award for Delivery Excellence.
Wanting to preserve their customers' satisfaction with their delivery service, Schuh invested in a southern distribution centre. Located behind a large retail store in the New Square Shopping precinct, West Bromwich, the regional distribution centre (RDC) organises the delivery of shoes ordered online and ensures a 24-hour delivery time for the whole of the UK.
CSI/Dexion solution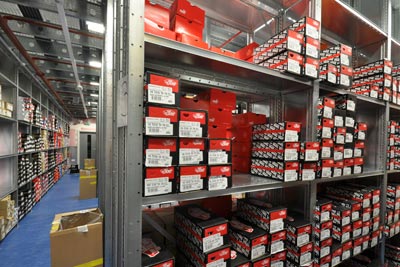 CSI is an approved distributor for Dexion products. Knowing the Dexion product range inside out, they were quickly able to establish which products would fulfil Schuh's requirements. This included creating separate storage areas to keep the stock for the retail shop separate from the RDC's stock for online purchases, providing space for administration and packing, and making the most of the available height.
After examining the alternatives, the CSI team recommended the Dexion Multi-tier system which was readily accepted by the client.
The installation team set to work on a HI280 two-tier Shelving System six metres high, with open grid walkways and mezzanine flooring supported on back-to-back shelving. This provided the greatest number of storage locations and utilised a shelf-supported mezzanine floor. CSI also installed a goods lift, a chute for dispatches and packing benches on the mezzanine level.
The result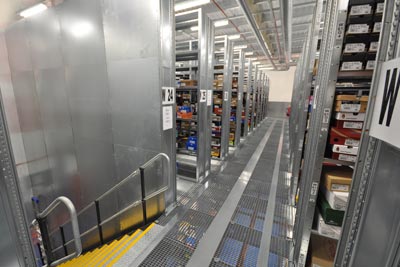 "We have worked with CSI over a number of years and trusted them to design the best storage solutions for us in this location. This double storey shelving system has certainly given us what we need; plenty of storage spaces, while the galvanised finish provides a bright and modern look to our new RDC warehouse." - Donald Hutchison, Logistics Manager
About Schuh
The first Schuh opened in 1981 in Edinburgh as an independent shoe store. Its success meant a programme of rapid growth in the number of outlets in the UK and Ireland.
This success continued when it began to develop its online store during the noughties. In 2011, Schuh was acquired by Genesco Inc. a Nashville-based speciality retailer. Genesco Inc. sells footwear, headwear, sports apparel and accessories in more than 2,455 retail stores throughout the U.S. and Canada, principally under the names Journeys, Lids and Johnston & Murphy.