Case study overview
Name: Toyota Material Handling Manufacturing Sweden
Location: Mjölby, Sweden
Products: Pull-Out Units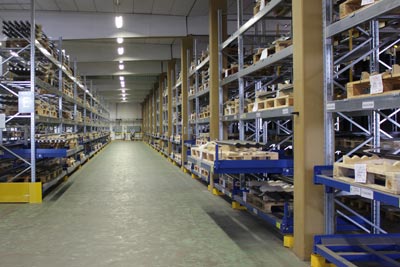 Business need
Toyota Material Handling Manufacturing Sweden AB (TMHMS) in Mjölby, Sweden, manufactures electric warehouse trucks for customers worldwide, and metal cylinders are a key component of these trucks.
The heavier of these cylinders can be handled with a crane, but TMHMS required a way to handle and store some of the lighter variants – and make picking processes more straightforward and efficient.
Constructor solution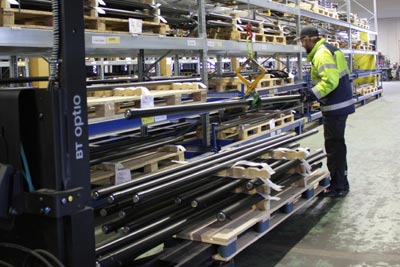 In designing the ideal solution to TMHMS' brief, Constructor took into account the range of cylinder types, and provided four different types of Pull-Out Units to cater for different cylinder lengths, all with a load capacity of 1,000kg so cylinders could be stored in different units without having to consider weight limits.
The most common cylinder lengths are up to 3,000mm, but Constructor recommended including 10 oversize units of 5,200mm to accommodate less common but equally important cylinders. These Pull-Out Units are the longest Constructor has ever provided.
Meanwhile, Constructor employed some innovative thinking to streamline order picking of TMHMS' cylinders, which can weigh up to 100kg.
Constructor equipped an existing truck model with a lifting device and adjustable platform that can be raised and lowered easily to ensure it's at the correct working height.
The Result
"Thanks to Constructor's forward-thinking response to our brief, we now have much greater storage capacity and better control of sequentially controlled production. Also, the improved ergonomics, Constructor has introduced to our handling processes means significant time savings. The Pull-Out Units are really impressive and make access to our inventory far easier." - Fredrik Petersson, Production Manager
About Toyota Material Handling Manufacturing Sweden
Toyota Material Handling is Sweden's leading manufacturer, developer and supplier of industrial trucking and related spare parts. The business also provides complementary services such as truck rental, financing and driver training.