Case Study Overview
Customer: Volvo
Location: Gothenburg /Sweden
Products/services used: Carton Flow, Lean Production & Picking, Pallet Racking Standard
Business need
The Volvo plant in Gothenburg is working with CIP to continuously improve all stages of the product life-cycle within the warehouse. For an automotive manufacturer, timings for product/article delivery to an assembly plant are critical. Volvo wanted to create a system where the efficiency at the assembly stations could be increased. A requirement for quickly implemented changes and flexibility was needed, due to the variety of car models produced on the assembly line.
Volvo recognised that they needed a supplier that had the products and knowledge their lean production system needed, and chose Constructor to provide the solution.
Constructor solution
Constructor's Carton Flow system was the ideal choice. It is a system that has become a vital part in the supply chain for components at assembly lines and conveyer belt lines. Racking units with rollers have been constructed and supplied for use alongside the assembly lines, giving an efficient order picking and unloading of articles.
These racks are supplied with angled roller tracks; gravity provides the energy, creating a fast, ergonomic and energy efficient solution for the optimal presentation of goods at the picking face.
The Volvo installation was extensive: 80 picking stations, each with four levels and 50 wheel tracks and 5660 pallet locations means 1700 articles can be stored and handled at each picking station.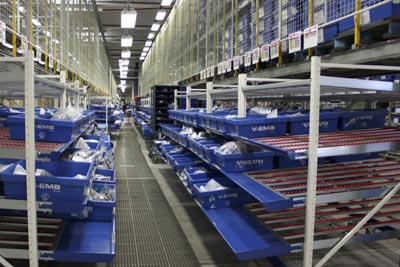 The result
This new picking station concept has become an important part of the processing and assembling of cars at Volvo due to its shortened picking times and reduced alteration times. The dynamic storage solution has increased speed, quality and internal logistics considerably for the department.
About Volvo
The Volvo Group is a Swedish multinational manufacturing company headquartered in Gothenburg. Its core activity is the production, distribution and sale of trucks, buses and construction equipment.