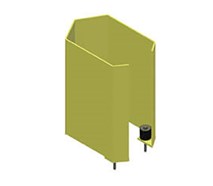 Floor Mounted Column Guards- Inside Fix
Increased protection for pallet racking uprights without outside floor fixings.
Inside Fix has been developed in response to demand from customers. It incorporates all the protection features of the existing Column Guards but by having the fixings inside the guard, it also prevents possible pallet damage. These internal fixings include rubber bushings which act as shock absorbers to minimize the effect of any impact.
IMPORTANT: All damaged column guards must be replaced immediately.