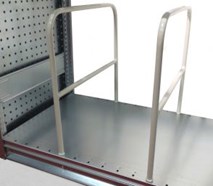 Loop Dividers
The loop divider is used for the storage of bulky parts such as hoods, doors and so on, standing upright on medium span chipboard shelves.
The division made with a divider loop can easily be moved in order to adjust the opening for the products we need to store and witch can be pushed in on the chipboard shelf. The loop dividers can be equipped with foam rolls (for 25mm tube) to protect the goods.
They can be installed within a racking system vertically and on the bottom beams or top beams to make smaller compartments within the racking. They are an ideal accessory when storing larger unwieldy items such as skis, doors, car windshields and long bars.
Size: Available in two different heights: 550 mm and 850 mm, for rack depths of 600 mm, 800 mm and 1000 mm.
Material: steel tube
Finish: painted
The tube dividers can be built to fit to your needs in regards of sizes, type of steel pipe used and colour.