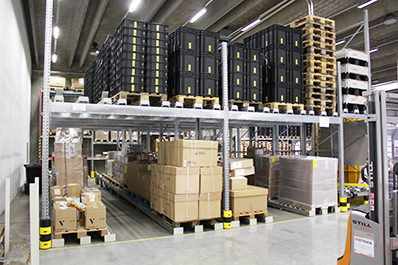 As a company that supplies a huge range of parts for air conditioning, food cooling and mobile machinery, Danfoss needs to have a storage system that is capable of handling high turnover in both the inward and outward parts of the process.
They have goods arriving from many suppliers, whilst they simultaneously deal with goods being despatched to customers or despatched for production. All must be handled with the same degree of urgency and accuracy. Their existing system meant that incoming pallet goods were not separated from those which needed sorting or repacking.
This resulted in operators spending a lot of time and energy actually tracking down the right pallet and then more time picking. Accessibility was also an issue.
Going with the flow
Danfoss asked Constructor if they had a solution that would help their process to flow better. They asked the right people as Constructor had just what was needed: the Constructor Palletflow system.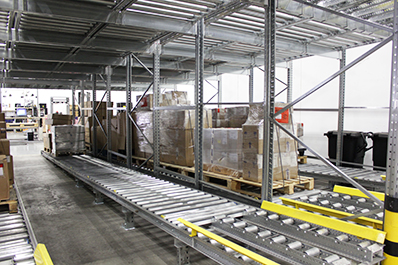 Palletflow racking, or 'Pallet Live Storage' is ideal for companies with FIFO goods storage setup. It's a system that offers a dynamic storage solution with integrated conveyor modules to suit most pallet types and sizes. Pallets travel smoothly on full-width or twin-track rollers.
When the front pallet is removed, the rear pallet is held back. It can save up to 60% of space, eliminates operator walking and picking and providesa high degree of safety to the staff all of which makes warehouse picking faster and more efficient.
Jannik Hollander Jensen of Danfoss is delighted with the result. "The aisles between the rollers provide full accessibility to all pallets at all times. This is essential in case of urgent requests from production. Previously, we spent a lot of time locating the pallet in the warehouse, but now we can check the Palletflow system first."
Read full case study here.